Quality Pump Parts
Secondary in importance to establishing a viable water source is quality pumping equipment. Quality translates into longevity. Depending on pump quality, pumps can last from 5 -20 plus years. We only install equipment known to have the longest life span.
In the same manner everyone does not wear the same size shoe, everyone does not require the same size pump system. Every pump system we install must factor in such things as estimated indoor/ outdoor use, property size, landscaping, guest houses, animals and available water production. We do our best to design a system that fits the individual's needs.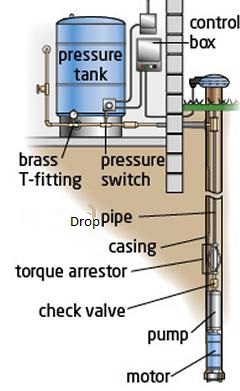 Why Choose Our Service
Some companies do not make you aware of all the different types of pump systems that you have available to you. We try to educate consumers on the three main types of pump systems. There is the " old school" , Conventional pump, the more high tech computer controlled VFD Pump system, and the Variable Power Source, Solar Flex Pump system. Though we will give
you our wisdom on which system we believe would best suit your needs, never-the-less we will install the system that you feel is best.